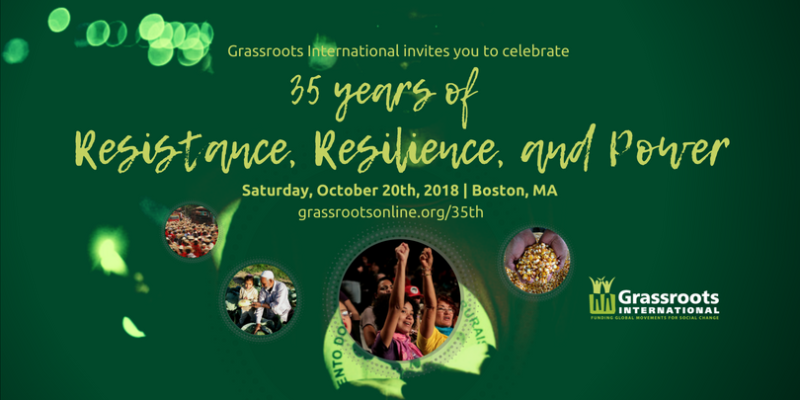 As a member of the hosting committee, NAMA invites you to join us in celebrating Grassroots International's 35 years of Resistance, Resilience and Power!
The 35th Anniversary celebration will feature:
Global movement leaders – those on the frontline of challenging the root causes of injustice and creating alternative systems to "live well"
International feminisms, including US organizations connecting across borders
Updates on the impact and vision of Grassroots International
Gorgeous views of the Boston Harbor with delicious food and cash bar
Grooving music from Zili Misik
And much more!
Schedule of events:
4:30 – 6:00 PM: Pre-event panel with Global Partners (free and open to the public)
6:00 – 7:00 PM: Registration, hors d'oeuvres and reception
7:00 – 10:00 PM: Program followed by dancing!
Honorary Host Co-chairs (partial list):
Honorary Host Committee members include:
Angela Adrar (Climate Justice Alliance)
Edie Allen
Medea Benjamin (Code Pink)
Mark Bittman (Author, food columnist)
Nancy Braus and Richard Geidel
José Toscano Bravo (Just Transition Alliance)
Niaz Dorry (Northwest Atlantic Marine Alliance)
Jason Franklin
Hayat Imam (Dorchester People for Peace)
Kate Kroeger (Urgent Action Fund)
Solome Lemma (Thousand Currents)
Micky McKinley (Solidaire)
Howard Mechanic
Terry Odendahl (Global Greengrants Fund)
Amelie Ratliff
Alice Rothchild and Dan Klein
Opal Tometi (Black Organizing for Leadership and Development)
Gina Athena Ulysse
Cindy Wiesner (Grassroots Global Justice Alliance)