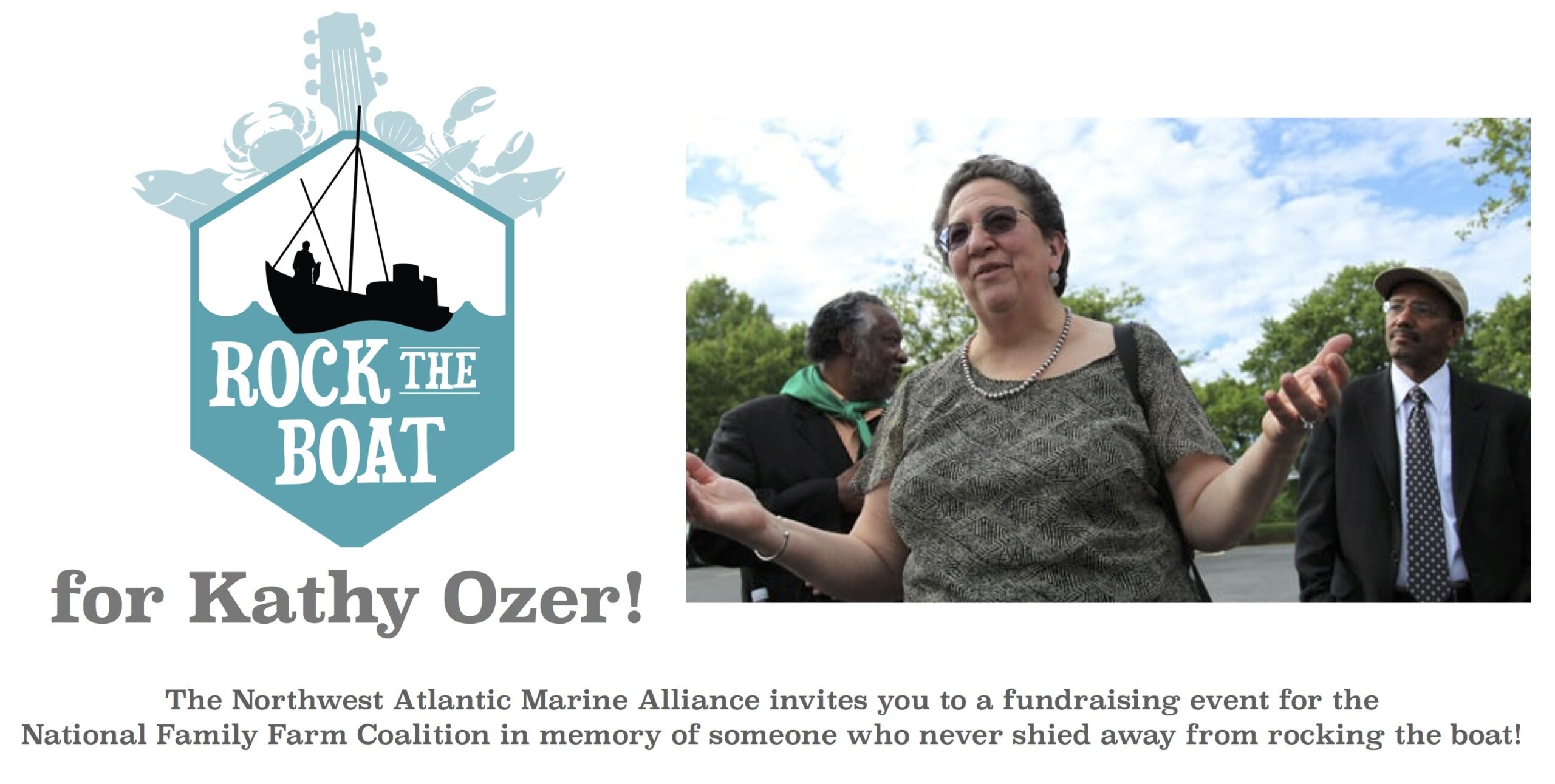 As we join thousands of family farmers, food justice advocates, friends, allies, and collaborators in mourning the loss of Kathy Ozer, long time executive director of the National Family Farm Coalition, we must also take time to celebrate her life and legacy.
Join the NAMA and our co-hosts Farm Aid, Food and Water Watch, Food for Maine's Future, Gloucester Fishermen's Wives Association, Rural Coalition, Why Hunger, and World Farmers for an evening of food, music, and friends.
The night will feature a feast of seafood dishes featuring the catch of New England's community-based fishermen mixed with some landfood from the region's family farmers. You'll enjoy cocktails, live music by the SeaFire Kids, and cooking demonstrations by local chefs, while you remember Kathy and scheme about how you will work to continue the fight for those who catch, grow, and raise our food.
Our sponsors, chefs, and food providers for the evening include:
Annie Copps, the former food editor with Yankee Magazine and Boston Magazine
Boston Smoked Fish
Daniele
Nella Pasta
Nicola Williams and Ms. Kay
Ocean97 featuring former New England Patriots Jarvis Green
Reaching Out to Cook with Kids (ROCKs)
Red's Best
SnapChef
The Trustees of Reservations and Appleton Farms
As the executive director of National Family Farm Coalition, Kathy's commitment to elevating the voice of family farmers was essential to address the injustices that ensued after the farm crisis. In 2008, recognizing the similarities between family farmers and community-based fishermen, Kathy invited the Northwest Atlantic Marine Alliance to become a member of NFFC. From there she advocated as strongly for community-based fishermen as she had been doing for family farmers.
Kathy passed away peacefully on January 22, 2017 after a battling lymphoma. We are committed to honoring her many years of service to bettering this world – especially for all the people who nurture and support us through good food – by staying in the fight.