Our Unique Role:

The Birds, The Bees, The Worms
Our team plays three critical roles in the broader ecosystem within which we work:

The Birds
Bringing the 30,000 foot perspective to our movement and networks allows us to be forward thinkers, and visualize opportunities, synergies, and potential that maybe some of our allies and networks don't see – yet. This perspective is what allows us to identify gaps that our unique approach can fill as well as broaden the networks that support the fishing community who lead our work. This view enables us to break the conversation around fisheries management and ecologically responsible seafood out of the glass walls of the fish tank where acronyms live and decisions are made not by us but rather for us by those who benefit from status quo.

The Bees
Being the pollinator and spreading our narrative and work. Our broad perspective has introduced us to key allies and networks who either didn't have a position on fisheries and seafood or had a position that didn't match other explicit values they had articulated. We bring connections, ideas, strategies, and action to their work, which in turn enables them to connect to our movements and support fishing communities and their calls for change.

The Worms
Fortifying our networks by embodying clear values that are reflected in our work and how we work. NAMA was created with a set of values. Over the past 20+ years our values have served as our compass. As we have been developing new or nourishing existing ones, these values have ensured that we pair with the right people, networks, and organizations. We have also helped our allies coalesce around or develop similar values.
Our Commitment to Racial Equity
We are a North American organization who has made an explicit commitment to ensuring equity across our food system and society as a whole. We owe our journey toward equity to our partners at Food Solutions New England who for nearly a decade has put us and many of our regional allies through the appropriate paces required to help us better understand the importance of such a commitment. 
Today, we are engaged in national and global movement building and campaigns that center racial equity in support of sea food providers who lead our work. They range from rural to urban, and although primarily white, also include Black, Indigenous, Latinx, and immigrants from around the world. 
Our commitment doesn't stop at racial equity. Food providing businesses are perceived as mostly male-dominated operations, however, women, trans people, nonbinary people, lesbian, gay, queer, and bisexual people fish. We cannot bring in the voices of the marginalized on the water and land without considering gender. That's why we are stretching ourselves to live into this commitment as the next phase of living up to our broader commitment to equity across our food system.
Our Theory of Change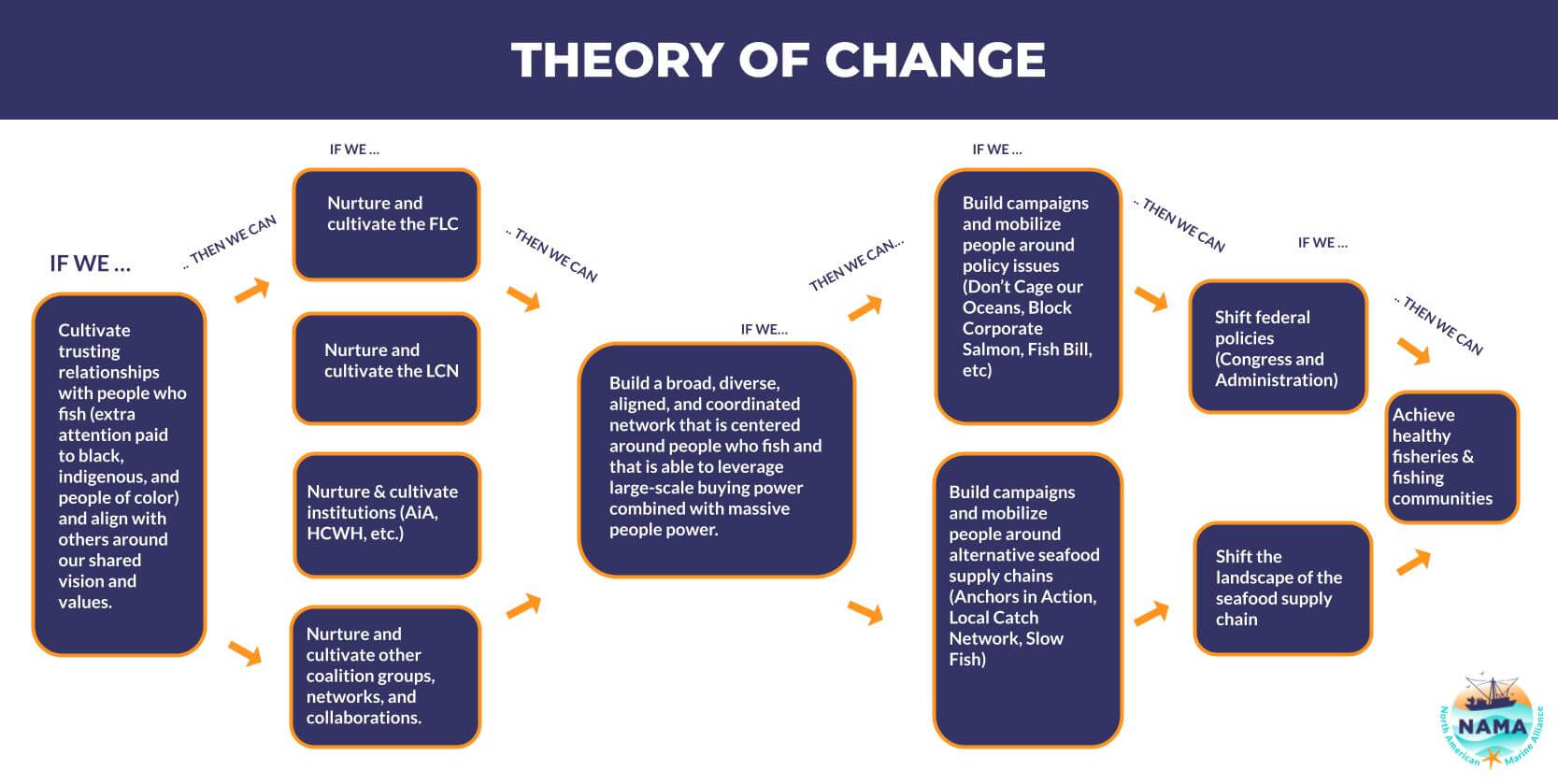 Expand our geographical reach to shift international trade and public policy.
Build a powerful North American movement and power base to be leveraged toward international policy changes and market transformation.
Change public policies toward sustainability.
Halt federal policies that bolster industrial fisheries such as the AQUAA Act and Catch Shares and generate federal policies that uplift community-based fisheries and protect the ocean commons.
Shift seafood value chain policies toward community-based and equitable models.
Expand and fortify seafood procurement policies so that millions of dollars of purchasing power shift away from globalized and industrial fisheries. Ensure organizational effectiveness.
NAMA is a well-governed, managed, funded, and developed organization operating in alignment with our commitment to racial justice.
We will not support policies that privatize the ocean or fishing rights.
We will only ally ourselves with groups, stakeholders, communities, and movements that share our values, and we will participate in events and opportunities only if we can bring our point of view to the conversation.
We will not support policies that privatize the ocean or fishing rights.
To allow us the independence we require to address public policy, we will not take funding from sources that can
limit what we can do
legitimize policies and strategies we don't agree with, and,
shut the door on our ability to organize with family fishermen.
We will not support factory fishing or factory fish farming.
We want to build a movement not an empire; to that end, our organization's annual operating budget will not exceed $1 million.