Anchors in Action is a first-of-its-kind, nationwide alliance working to shift the vast food-purchasing power of institutions toward a more just food system. Hospitals, K-12 schools, colleges, universities, city governments, and other anchor institutions have the power to transform our food system. By connecting these institutions to values-based food producers, the alliance challenges them to lead by example and "put their money where their mouth is."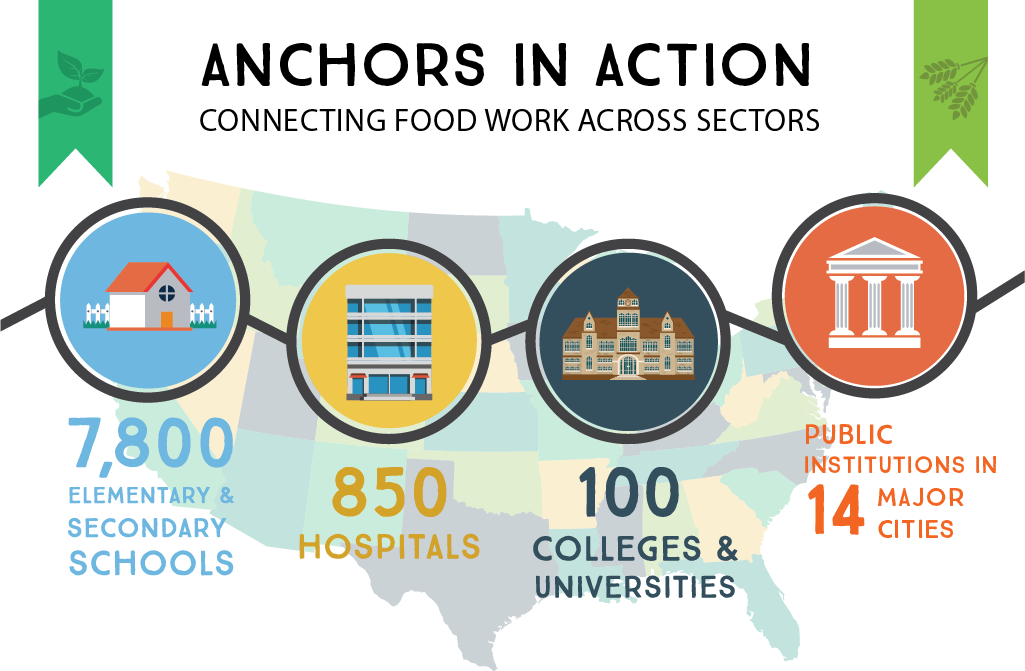 Over the last 60 years, local communities have lost economic power as large corporations continue to tighten their grip on our food system, replacing homegrown models with profit-driven, industrial ones. People throughout the increasingly industrialized system have suffered, including farmers, fishermen, ranchers, farm and food chain workers, processors, and distributors. Today, 21.5 million people in the U.S. work in jobs along the industrial food chain, many in low-paying roles where they face ongoing exploitation and unbearable working conditions. Our food system is also making us sick, with one in four American adults experiencing food related illnesses including pre-diabetes.
With their mammoth combined buying power, anchor institutions can demand a food system that fulfills the dietary needs of all, builds community wealth, advances social justice, values natural resources, and respects ecosystems. Rooted in their communities, these institutions have missions in line with supporting community health. So it is within the public's right to expect that they seek and use supply chains that benefit all people, especially marginalized communities.
Anchors in Action working groups drive change by unifying demand within and across networks for food supply chains that benefit all people, ultimately seeking:
---
Healthier, more sustainable, and ethically produced food for those who eat in institutions.
Market access and resources for producers who supply institutions.
A shift in the entire food system towards health, justice, sustainability, equity, and community ownership.
NAMA's Involvement
Over the years, NAMA has worked in various ways with the three founding organizers of Anchors in Action: the Center for Good Food Purchasing, Health Care Without Harm, and Real Food Generation. These three groups together represent the food-purchasing power of more than 850 hospitals, 7,800 elementary and secondary schools, 28 public institutions in 14 cities, and 100 plus colleges and universities. Collectively, their food-purchasing budgets range in the hundreds of billions of dollars.
As a key advisor to Anchors in Action, NAMA helps the alliance develop a ranking system the public can use to hold institutions accountable for buying from traceable, values-based seafood operations. NAMA also connects the alliance with experienced fishermen who can advise on this process.
Harnessing the food-purchasing power of institutions has long been a pillar of NAMA's work, and we've achieved this goal over the years in several ways, including organizing our network to strengthen boat-to-institution supply chains. NAMA has worked with, among others, Wallace Center at Winrock International, Farm to Institution New England, Farm Aid (Yes! Concert arenas are institutions!), the National Farm to Cafeteria Network, the National Farm to School Network, and Gloucester Fishermen's Wives Association.
---
What You Can Do
Please stay tuned for ways to get involved as this project continues to grow.